With the 2018 iPad launched, will Indian schools progress more towards interactive learning than parrot-fashioned memorization?
At its education-based event in Chicago, Apple pitched the enhanced 9.7-inch iPad with support for Pencil, 10 hours of battery and Apple A10 Fusion Chip. With a base price of $329, Apple is going a step further by offering the new iPads to schools for a price of $299 with an additional Apple Pencil that can be purchased by students at a discount rate of $89. Although it's nowhere near the projected $259 mark that was expected from the newer generation of iPads it still is a little more affordable to students and teachers.
But with a bundled price of $388 for the iPad and the Apple Pencil, does it seem feasible enough to match the cheaper line of Chromebooks that have already been out on the market? Google is also only starting to roll out tablets running on the web-based Chrome OS interface, so the $299 iPad could soon face great pressure in classrooms. This wasn't all the same about half a decade ago when iPads and Macs ruled the US schools, owing to 50 percent of shipments. Apple has now slipped miles away from Google and Microsoft both have started combating classrooms, targeting at least 60 percent of tablet sales in the US.
While it may seem like the iPad is being offered at a hefty discount, the fact that you're paying extra for the new stylus and an additional keyboard makes it a hard sell. Thus it isn't going to be easy for Apple as its market share only holds a mere 12 percent of user base among school devices, half of what it accounted for back in 2014. Chromebooks have seen the growth because of the fact that it provides an easy way of interacting with a computer and the software is made such that even children can use it for coursework or anywhere out of school.
In India, the new 9.7-inch iPad with WiFi will be sold at an even higher price of Rs 28,000 for 32GB of internal storage. The version with extended cellular connectivity will be available for Rs 38,600 with the Apple Pencil going out for Rs 7,600. The pricing surely hasn't seen any improvement since Apple's previous generation iPads were priced at Rs 28,9000 and Rs 39,900 for the two different variants. Taking into account that a user has to incur additional costs for buying a keyboard accessory as well as a stylus, the whole idea that surrounds the new iPad as a cost-effective option sounds like a marketing campaign gone wrong. For a group of users from a specific region, it could be cost-efficient. For anyone outside the US, the new iPad is just the old 9.7 iPad with a minor spec bump that'll probably give you a better performance. It has the exact same set of cameras, the same design, the same old Touch ID authentication and might probably last you as much as the last iPad.
With an expensive piece of hardware like this, would schools in India ever get to use such computing work in their daily life? That remains a question since only a little fraction of the Indian schools have been upgraded to interactive learning classes that take children to a world beyond textbooks. On that note, Digital learning has indeed come a long way from being a luxury to increasing student attention and participation in addition to improving student familiarity and comfort in technology. The growing demand for improved learning techniques is something schools are waking up to and e-learning has a potential to be the next big social thing in India. With the increasing penetration of the internet, India is in an advantageous state where it can grow and infuse technology into the field of education. However, the targeted approach of allowing digitization improve education doesn't see much future for the latest iPad as the ecosystem is still in its infancy to go out and try something that will set it back by tens of thousands of dollars.
Apple may be pushing its tablet device for the education sector to take on Google's Chromebooks but from the looks of it, it doesn't seem to matter. In markets like India, the new iPad is nothing more than a new version of the older iPad and it certainly doesn't earn the cheapest iPad tag, not by a long margin. It could possibly be the more expensive than last year's unit simply cause you're buying its accessories for a heftier price. Moreover, their competition which happens to be Chromebooks, are easy to set up and maintain because all data is stored in the cloud and a student can log in to their Google account to access their data from any other device. Google even rolled out its first Chrome OS tablet with the release of the Acer Chromebook Tab 10 yesterday which clearly looks like a deliberate move from the Mountain View giant to target the potential iPad 2018 audience who are also looking for a cheaper alternative.
Apple plans to sell the 2018 iPad in the coming weeks in more than 25 countries but customers in Asia including India will have to wait until next month to get a hold of the newest Apple tablet. Barring the traditional hardware specifications, Apple has showcased the new iPad with new versions of iWork elements like Pages, Keynote, and Numbers which will be pre-loaded with every purchase of the device.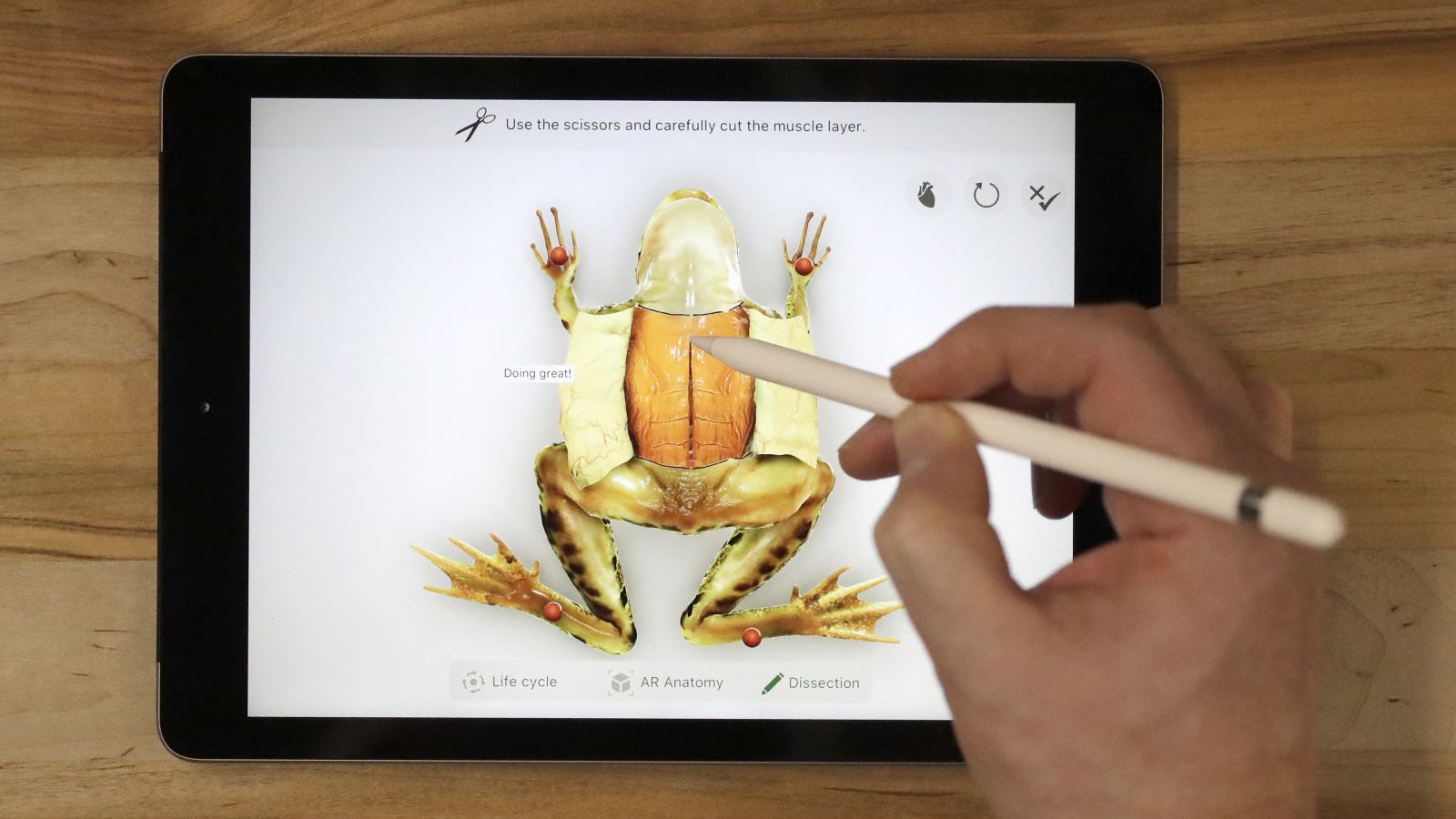 The Cupertino company has also revealed plans to teach drawing, music and filmmaking lessons as part of the 'Everyone Can Create' campaign for educators. There's a new Schoolwork app for teachers to assigns work to students as a move to compete with Google's Classroom. The company discussed plans to add augmented reality-based apps one of which named Froggipedia (demonstrated during the event) allows students dissect frogs with the help of an Apple Pencil. As part of its initial sale, Apple is giving students and teachers access to over 200GB of iCloud data which goes up from a mere 5GB of online storage.
Source: themobileindian.com